Bio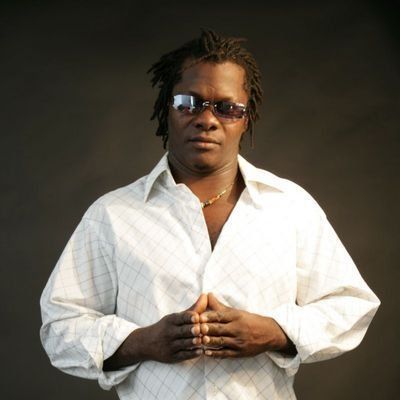 July 2020, it has been a long time since I released a song, but I am back with two releases, one Can't Breathe about George Floyd done in the reggae dancehall style and COVID 19 a calypso/soca. As you know I was born in Guyana and spent several years in Antigua singing with various bands and went on my own in 2007 but the struggle continues.
Fans will tell you that he has a voice that is distinctive and resonates with energy which is evident in his dancehall and raggasoca tracks. Born in Guyana, South America, he started singing in his church, he could be heard on any given Sunday thrilling the congregation with his heavy baritone voice.
Michael joined the Guyana Defence Force(GDF) it was here that he received the name of Sparkey. Sparkey performed with GDF and several other bands before leaving Guyana at the behest of the Tonik Band to relocate to Antigua in 1997. After the break-up of Tonik Band, Sparkey did stints with Vision 2000 where he wrote and recorded eleven of the twelve songs that appeared on the Vision 2000 album. One of the eleven songs, "Want Me Body" was written for Pat Raguette of the Virgin Islands and it became a mega hit for her when it was released. To quote her, "I have never had a song like that since".
In 2004 as a member of the group Da Bhann, Sparkey toured with Atlantic Recording artist Kevin Lyttle, because of his unique voice he was able to replace reggae artist Spragga Benz and Jamesy P on Kevin's songs.
Moving on is hard, but in 2006 Sparkey and Da Bhann parted, he was convinced that this was the time to pursue a solo career. In April of 2007 his first solo CD aptly titled "Sparkey & Friends Back 2 Basics", with fourteen tracks, ten soca and four reggae was released. Artists appearing on the CD are Claudette Peters of Taxik on Crazy, Mervyn Sleepy Edwards of Taxik on Best Friends and Dalton Dyer of the new Tonik Band on Ah De Vibes.
In October 2007 Sparkey & Friends Back 2 Basics was nominated for three awards by Toronto Exclusive Magazine in Canada and he was awarded Best International World Male Artist and Best International World CD Album.
In March 2008 Sparkey kicked off his 2008-2009 tour in support of his CD in Japan with three shows in Osaka and one in Tokyo. Sparkey is now charting his own course on the world stage with his brand of music.
Awards, Nominations & Features:
AWARDS:
2010 AWARDS & NOMINATIONS
January 3, Winner of the 2010 Best International Reggae Song – Toronto Exclusive Magazine(TEMA) for Zion Gate.
August 2010, nominated in the Best Reggae/Dancehall Artist category at the Underground Music Awards for Zion Gate.
2009 AWARDS & NOMINATIONS
UNDERGROUND MUSIC AWARDS, NYC.
Best Reggae/Dancehall Artist, 2009
INERNET RADIO MAGAZINE
Named one of the top Twenty Independent Artist Online
2007 AWARDS & NOMINATIONS
TORONTO EXCLUSIVE MAGAZINE, CANADA
Best International World CD Album
Best International World Artist
2007 Nominations:
Toronto Exclusive Magazine, Canada
Best International World Male Artist
Best International World Album
Best International World Song

Comments
January 6, 2011 Hello Music
Song: Zion Gate.
Based on our listen, the following aspects of this release are outstanding. Keep building on these strengths.
Performance:
Energy
We thought your track had rousing energy that moved us as listeners. You sound confident in your musical skills and the parts.
you're playing.
Timing / Togetherness
We thought all the elements sounded tight on this recording. Everything was locked in here.
Songwriting:
Lyrics
Crafting interesting lyrics is hard and a completely different art than writing the music. Clearly you've put some thought into your lyrics. Good work.
Melody
Above almost everything else, melody is an essential musical quality. Yours jumped out at us. Good melodies don't come easy;
you should be proud.
Production:
Production Quality
All the elements in the mix here sound clear, and they coalesce into a cohesive sound that suits the composition. This is very much its own art form. Nice work.
Zion Gate: MusicXray
Your Quote
This song is a hit
Your Review
This song has great hit potential. My team and I agreed that this song can go places with the right promotional push behind it.
Reviews by MusicPlacements, July 2009
Crazy featuring Claudette "CP" Peters:
Song sounds great, MC flow is on point, singer has a good voice.
Come Back:
Nice song, great lyrics and melody.
Holding On:
Great song.
Sexy Lady:
Nice song, overall a good song.
Caught Up:
Very nice song, positive vibe.
September 28, 2007 From the album Sparkey & Friends Back 2 Basics
Review by Taxi of Come Back September
Title: Makes the point clear
Melody: Good music in verses
Structure: Well-written structure
Lyrics: Engaging, cohesive, communicates emotions to listener
vocals: Does help to sell song
Vocal has great energy and assurance.
Overall comments:
Michael -
Wonderful energy and an unflagging groove on this fun track!
Sounds like a party was going full force as this was being recorded. The percussion keeps percolating strongly throughout and helps maintain the momentum. Nice bass line as well.
The vocal had great feel and strong tone, the horns, obviously synthetic in nature, didn't bother me, like most synth brass, since the notes weren't held too long and there wasn't the annoying fake vibrato that sometimes accompanies them.
All in all, you did a great job on Come Back!
Urban Mainstream Mag (Aug 31, 2007)
We really appreciate your music and it is very good. Urban Mainstream will feature you in issue: # 29″.
"Your sound is just what the movement needs!"